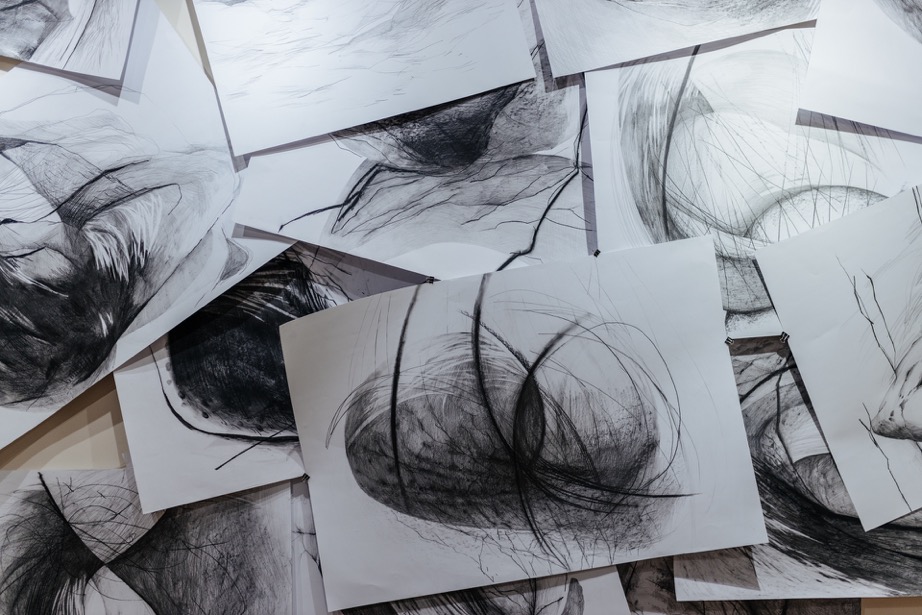 Record of a creative process
Papers, i.e. sheets of paper, scraps of paper, various scraps. Also sketchbooks, paperboards, folders lled with sheets of cardboard. Sometimes they are autonomous artworks, sometimes just notes. Often nished, even signed. Equally often abandoned halfway in the process, incomplete, serving only as a starting point, a gate leading to the next works.
The concept of an artwork, such as a painting or a sculpture, does not come out of anywhere. It does not appear suddenly, like a great illumination. Stereotypically, this is our perception of the artist's work. It seems to us that it is the result of inspiration, some energetic tension, and supernatural revelation. Well yes, the artist, just like all of us, sometimes "comes up" with an idea unexpectedly. Most often, however, they come to the nal form on an artwork slowly and also with great eort. They faces challenges, tries and tests various concepts.
Not all of them are developed in a large format and nished work. Many are abandoned. Others go to the reservoir of forms, becoming a resource that the painter reaches out to while working on the next works or entire series. Some are a preparation for a painting and ultimately become a mural. Others were supposed to be just a draft drawing and evolve into a spatial object. The next ones wait for their time, which will come some time or not.
Sketching is an integral part of artistic practice. There is a primal element in it. It is the most authentic record, but often also the most automatic. Just letting the imagination run wild, natural expression, no limitations and the emanation of a tendency to risk. True art ends when the artist stops sketching because it means that they stopped searching for new ways of expression and developing their concepts. Sketches are also an element of self-analysis, reection, and sometimes a look back at the existing achievements, topics and solutions.
Notes and drawings are the records of the process. They are continuity. Most artists never part with the sketchbook, and when they accidentally run out of it, they sketch on anything. They do not always take care of their sketches either. Some of them are torn on the edges, others are left with the imprint of a coee cup. This only highlights the truth of these records. Sketches and notes capture authentic emotions. Thanks to them, we learn the most about then artist. They stand in front of their audience in truth, naked and helpless. Although art shouldbalways be honest, the nal concept of an artwork is often very calculated, closed as a whole, well thought out. It is a subtraction or the crystallization of the form. The sketch, on the other hand, ispure and sincere emotion, impulsive and authentic.
Not all painters want to show their sketchbooks in public. Some people think that it is their private sphere, like a kitchen of the painting workshop, something very personal, almost intimate. The presentation of sketches and notes is an expression of the artist's trust in the audience, in the lovers of his art. Also an expression of trust in the gallery.
Agnieszka Gniotek